Crowns & Bridges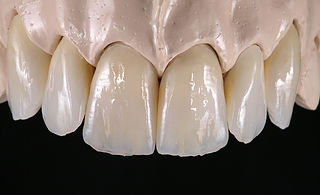 The replacement of previous failed restorations, the presence of teeth with loss of significant portion of dental structure or the loss of teeth, often require the use of crown or bridge restorations.
A crown is defined as an artificial replacement that restores missing tooth structure by surrounding all of the remaining structure with a material such as cast metal, porcelain, or a combination of materials such as metal and porcelain. A crown is used to restore the shape, appearance and function of a tooth.
Basically the tooth, or what is left of it, is reduced, and an impression of the tooth is taken with a specific material. A model is created from the impression, precisely replicating the situation present in the patient's mouth, and the laboratory fabricates the crown. After, the dentist cements the crown onto the tooth.
Traditional metal-ceramic crowns have been around for several years and they are probably considered the gold standard in Prosthodontics, due to their long term success over time.
However, during the last few years, the use of all ceramic crowns has increased drastically. A definitive advantage of this new materials, compared to the traditional metal-ceramic ones, is the esthetics, as well as, in certain cases, the more conservative tooth preparation.
In addition, in light of a more minimally invasive and conservative approach, a partial crown, called onlay or inlay, can be fabricated, to restore the missing tooth structure.
A bridge is a dental restoration used to replace one, or eventually more, missing teeth by joining and artificial tooth to the adjacent ones. As for the crown, traditionally the material of choice is metal-ceramic; but, again, new technology and materials have made possible to fabricate metal-free bridges (all ceramic).
The adjacent teeth to a missing one, are reduced in size and a bridge is fabricated to replace the missing tooth and restore the size/shape of the adjacent teeth.
A specific type of bridge ("Maryland bridge") is used mainly in the front of the mouth: the artificial tooth is cemented by metal, or ceramic, wing to the adjacent tooth.
Crown generally requires less dental visit to be completed compared to a bridge. Both crown and bridges can be used on teeth and dental implants.